Concept for Paper Recycling | Target of 65% of Recovered Paper Utilization Rate
65% of recovered paper utilization rate is the new target for "Japan, a paper recycling country"
To help build a recycling-based society, the Japan Paper Association (JPA) in 1990 set a target of "55% of recovered paper utilization rate by FY1994." Since then, the targets have been met and revised a number of times along with the continued efforts to increase the recovered paper utilization rate.
Most recently, the target of "making every effort to achieve at a 64% by FY2015" set in 2011 was attained one year ahead of schedule, and a new target of "making every effort to achieve at a 65% by FY2020" was set in 2016.
Japan's recovered paper utilization rate is one of the highest in the world. Even though the increment of one percentage point may appear small, in reality, it is not an easy task to raise the already high world-class ratio of paper recycling. Energetic all-out efforts involving not just the paper industry and the recovered paper industry but also the consumers, industrial users, and municipal governments are a must. More specifically, the Japanese paper industry will exert best efforts in expanding the use of recovered paper as raw material for paper grades such as printing and communication paper, securing the raw material such as office paper and reducing the CO2 emissions from the recycling process through energy saving and fuel conversion measures.
Recovered paper utilization rate and recovery rate in Japan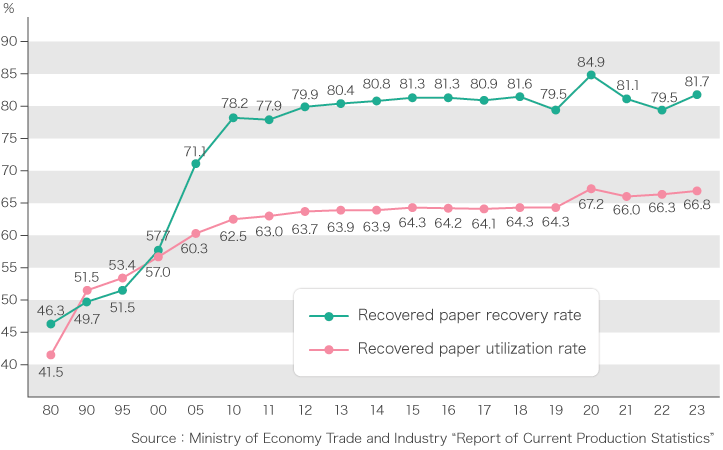 For more information about JPA's FY 2020 target of recovered paper utilization rate (Japanese)